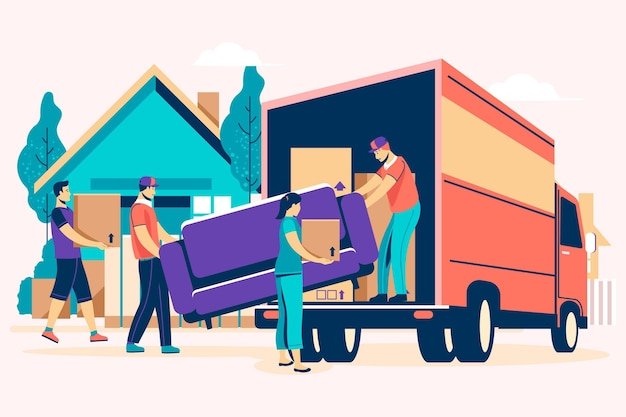 According to Business Insider, Florida is one of the top states people choose to move to because of its tropical climate, natural beauty, and gorgeous beaches. This is why in 2021, Florida saw a 1.9% population increase.
However, the increasing housing prices, low wages, and severe weather cause many people to leave the state. For instance, in West Palm Beach, house sales have declined by 34.2% because more people are moving out than moving in.
Despite the challenges associated with long-distance moves, many people are leaving Florida for states with a lower cost of living, such as neighboring Alabama and Georgia. Some people, in fact, are moving across the border to South America. If you're one of them, this post is for you.
Tips for a Long-Distance Move from West Palm Beach
A move from one neighborhood to another isn't very hard, states a property management team of Keyrenter. But relocating to another city, state, or country is a completely different ball game.
Firstly, you need to bid farewell to your friends and colleagues. Next, you need to ensure that you pack everything carefully so your valuables are not damaged while they're being transported. While you do this, you also need to consider moving costs and the expenses of securing a new home, making essential changes, and settling into your new job.
So, if you're moving from West Palm Beach to South America, here are some tips that will help you out:
1.      Calculate the Costs
When you're relocating, it is wise to create a budget for the move—particularly if you're moving across state or country lines. Get in touch with a reliable long-distance moving company to get an estimate of the cost of Moving from West Palm Beach to South America.
When calculating the costs, you also need to consider the costs of setting up utilities in the new house and set aside 3-6 months of expenses if you are going to South America without securing a job.
2.      Declutter and Downsize
If your calculated costs exceed your budget, it is wise to let go of non-essential items. So, you need to declutter before your long-distance move. You can even put up a moving sale for neighbors to secure more cash before your move. When you move to the new place, you can use this money to purchase new items.
Here are some things you can sell before your long-distance move to reduce your moving costs:
Furniture – sofa sets, bedroom sets
Electronics – TV, kitchen appliances
Old clothes
Heavy crockery sets
Mattresses
3.      Start Early
When you leave a house or sell it off, you must notify your landlord or the new owners of the date you will vacate the property. So, you need to ensure you have all your things packed by then.
However, when the date nears, you start experiencing anxiety because of the mess around you. When this happens, you will start stuffing things in boxes which might cause many of your valuables to get damaged.
When you start early, you have ample time to organize your items, which not only saves you from anxiety but also makes unpacking easier later on. Starting early also ensures you are wrapping fragile items properly so they don't get damaged during the move.
4.      Pack Less Used Things First
Once you've decided to move, you can start packing. Even if you plan to move two months from the date, you can start packing less used things first. So, wall art, non-essential books, and non-essential crockery can be packed away.
Pack essentials like clothes and kitchen items last. This way, you won't live out of boxes the last few days at your home in West Palm Beach. You also need to label these items properly, even if you're packing them last, so you can open them first when you get to the new home.
5.      Use Plastic Bins and Tubs
Using Tupperware and big plastic tubs is a great idea to keep things together and sorted when moving. For example, you can keep stationery items in one big box and kitchen cutlery in another. But for this trick to work, you need to invest in high-quality plastic tubs. If not, the flimsy and bendy material can cause all your things to spill or get damaged during the handling and moving.
You can even put your essential clothes in plastic boxes and label them. After you unpack, these plastic boxes can come in handy in the new house too.
6.      Don't Pack Clothes Separately
Party wear and expensive dresses can go in a separate box or suitcase. However, T-shirts, jumpers, and nightwear don't need to be kept in separate boxes.
When you're moving long-distance, clothes can be useful to fill empty spaces in boxes. Bubble wrap might do the trick too, but when you wrap your crystal decoration pieces in an old t-shirt, you are not only saving space but also the costs of bubble wrap and packing material.
7.      Visit the Place Before Moving
When you have decided to move, the stress of packing up a whole house might dampen the excitement of going to a new place. If you hire help for moving, you can allow yourself more time to think about how you will start fresh.
You can even fly to the new place before you move to check out the neighborhood and establish your favorite eateries. Getting familiar with the new city will also allow you and your family to reduce the stress of moving and look forward to new experiences.
Final Words
Planning a cross-country move from West Palm Beach to South America can be daunting. Apart from the hassle of packing everything, there is the added stress of adjusting to a new job and neighborhood. However, if you follow the tips above, you can reduce the feelings of stress and anxiety to a great degree. This way, you can truly embrace the change and quickly settle at your new home.