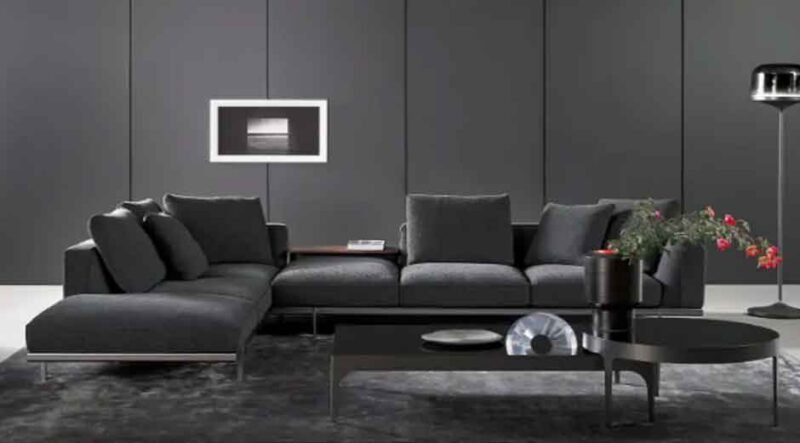 A sectional couch is more than simply a seating option; it is a focal point that determines the arrangement and mood of your living space. Its adaptability allows for many configuration alternatives, providing creative chances to customize your space to your demands and stylistic preferences.
In this post, we'll look at numerous methods to arrange a sectional sofa, revealing how it can transform your living area from ordinary to remarkable.
How to Match a Sofa with Decor Elements?
Combining contemporary sectional couches with design components may assist in creating a visually appealing and unified living environment. These are some pointers on how to do it.
Consider Your Color Scheme
Begin by deciding on a color palette for your living area. Contemporary couches are frequently available in neutral hues such as gray, black, white, or beige, which may readily integrate with various design styles. However, if your overall color plan allows it, you might pick a sectional sofa in an intense hue.
Choose Complementary Wall Colors
The hue of your walls should suit the color of your sofa. If your sofa is neutral, you can experiment with different wall colors. Go with a monochrome look or add a splash of color with an accent wall. To balance the area, choose neutral wall colors with vibrant furniture.
Select Accent Pillows and Throws
Choose ornamental cushions and throws to create visual interest and relate the sofa to the decor. Colors, patterns, and textures that compliment the couch and the general color scheme of the space should be sought. Consider using cushions of various sizes and shapes to create a dynamic effect.
Coordinate Coffee Tables and Side Tables
Select coffee and side tables that complement the design and scale of the sectional. Glass or metal tables lend a modern touch, while wood tables add warmth and contrast. Consider the practical component as well; tables should be easily accessible from seating spaces.
Rugs for Grounding
A rug may help to define a room and anchor a furniture arrangement. Ensure the rug is the right size; it should reach beyond the sectional to give a distinct sense of the seating area. The color and design of the rug should complement the sofa and other décor items.
Lighting Matters
Choose lighting fittings that complement the modern style. Pendant lights, track lighting, or elegant floor lamps may all be used effectively. Ascertain that the lighting fixtures are proportionate to the space and offer appropriate illumination.
Art and Wall Decor
Consider what kind of art or wall décor you want to display. Contemporary art can help to complete the modern style. Check that the colors and style of the artwork complement the rest of the room.
Balance Open Space
Take note of how the furniture and décor items are arranged. Make the room balanced and symmetrical. Avoid overloading the space since modern design frequently stresses open, uncluttered places.
Add Greenery and Accessories
Houseplants or succulents may provide life and a touch of nature to a modern setting. Include decorations such as flowers, sculptures, or ornamental bowls that complement the overall design without dominating the space.
Personalize the Space
Finally, remember to include unique touches that represent your style and personality. Personal touches, such as family pictures, private collections, or one-of-a-kind decorating pieces, may make a place feel more welcome.
Contemporary Sectional Sofas Examples
1. Phil Corner Sectional Sofa
Choose between a casual or linear backrest, with the former having smaller spaced back cushions and the latter having bigger backrest cushions set side by side. An open region in the middle and at the end allows for adding an end table. You may add a connected side table to the central section in the modification choices. All the space offered in its enormous L-shaped form allows you to recline comfortably with a large group of friends and family.
2. Denny Corner Sectional Sofa with Peninsula Quickship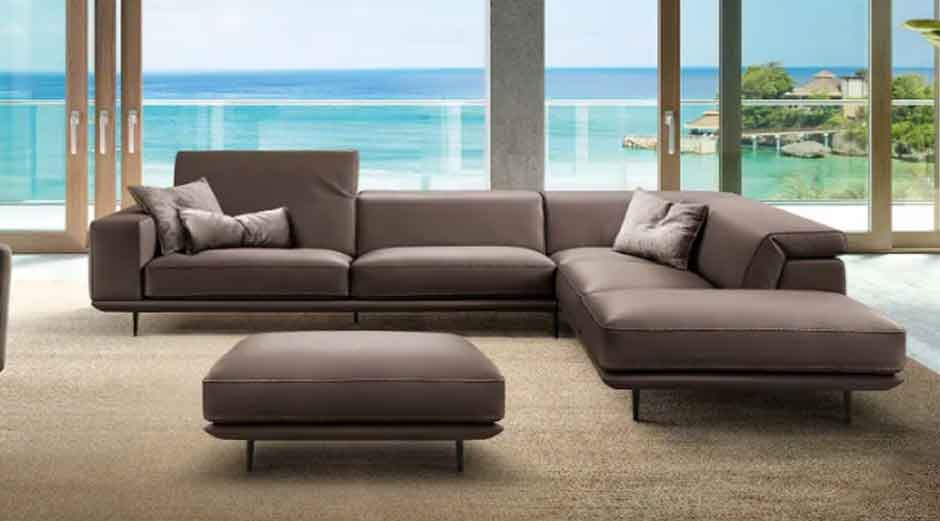 The L-shaped design has a peninsula on one end, providing enough space for the entire family to stretch out and relax. The soft-to-the-touch leather feels amazing against your skin, and the cushioned interior allows you to sink in, making this one of the most comfortable chairs in the house. Adjustable headrests give comfort and support for added convenience.
3. Amalfi Curved Sectional Sofa
This seating arrangement creates a feeling of 70s design, eccentric but ultimately gentle and tranquil, with curves like the namesake coast. Sit several people on the large seating or spread out and enjoy the foam cushioning and plush upholstery. It creates a perfect complement with emphasizing coffee tables for a fresher living room because it is heavily impacting but accommodating in shape.
4. Maximilian Sectional Sofa with Chaise
The Maximilian sectional couch with chaise has an unmistakable, distinct personality, a classic shape covered in rich fabric or leather, attractive leather armrests, and a solid metal base. When these pieces are combined, they form the ideal modern living room protagonist. Tufted detailing on the back cushions and seat adds a stylish touch. Sit back, relax, or spread out on the chaise lounge and rest on the spherical pillow.
5. Cortina Tufted Sectional Sofa
Sit or stretch out on the narrow end, then curl up or sprawl on the opposite, broad, welcoming side. For an even more beautiful reclining experience, just bring an end table to the roomy part or into the open space between the two. The strong, rigid angles and grid-like tufting on the seats are examples of geometric creativity.
To Sum Up
Our suggestions and examples can assist you in selecting your ideal sofa and appropriately decorating the area around it. Remember that creating a balanced and harmonious design that meets your interests and preferences is the key to effectively mixing contemporary sectional couches with décor items. Experiment with different combinations until you get the style and feel you want for your living area.