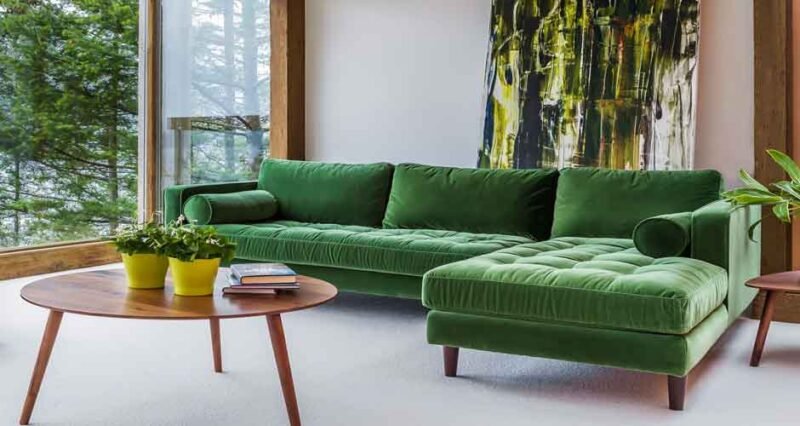 If you're looking for a way to elevate the aesthetic of your gathering space, few items can instantly achieve this like a velvet statement piece can. While once only an option for the wealthiest consumers, quality velvet is now widely available, allowing you to bring elegance to any room. Learn now how our green velvet sofas can help you achieve the luxurious look you desire and all that velvet has to offer.
Durability
Many people incorrectly believe that velvet is a delicate material that makes for difficult upkeep. While that may have been true in the past when velvet was often woven from delicate silk, today's velvet can actually be very durable to better suit the needs of the modern consumer. You no longer have to sacrifice visual appeal for functionality. You may not be able to wipe down a velvet couch the way you could one made of leather, but velvet can stand up to the demands of family life, including children and pets, providing both comfort and style without the rigidity of leather, so that you can have the lush living space you desire.
Aesthetic
It isn't only the feel of velvet that makes couches made with it so appealing. The color and sheen of velvet achieve a level of richness that other materials struggle to attain. Light can be swallowed up by velvet pieces, the depth of the material seemingly endless, or bounce off of it in dazzling ways, especially along its sumptuous curves and lines.
Value
Historically, velvet was a sign of wealth, with only the most prosperous able to use it to furnish their homes. Now, though, velvet is much more affordable. While it maintains its ability to transform a room into a place of elegance, it can be brought home at a much better price point, and its durable nature means that it lasts longer, saving you the expense of more frequent replacements.
Versatility
One of velvet's strongest qualities is its versatility. It can add class to any room, regardless of its designer's inclinations. Going for a vintage feel? Nothing can compete with velvet. Wanting more modern lines? Velvet delivers again.
For those who enjoy a moodier look, green velvet sofas can be bold additions to a shadowy palette to help balance out the darkness without detracting from it, its contrast adding to the room's depth. In spaces with sunnier compositions, green velvet couches can be earthy additions to a bright color scheme, particularly when used in conjunction with modern floral components or classic mid century pieces.
Contrast
The nature of velvet means that any accents you add to the sofa will be particularly effective. Pairing a green velvet sofa with some brightly-hued floral pillows or a chic patterned blanket can tie a room together beautifully. Bold ornamental pieces are all the more striking against a background of velvet, and it also easily lends itself to patterned wallpapers and painting designs, creating dramatic layered looks that make your room really sing.
With several styles of high-quality couches available for you, Poly and Bark has a design for everyone. Browse through their selection of green velvet sofas today to find the perfect piece to bring your dream dwelling to life.