Summer is almost here, which means it's time for a trip to the sandy shore or the pool and soak up some rays. However, wearing a swimsuit might be intimidating for many people. Fortunately, there's a solution: control swimwear. Control swimwear is here to help you feel confident and comfortable while you lounge by the water. In this blog, we will explore some of the best control swimwear styles for all body types so you can look and feel your best this summer.
What is Control Swimwear?
Control swimwear, also known as shaping swimwear or tummy control swimwear, is a type of swimsuit designed to enhance your figure and provide a more streamlined appearance. It goes beyond the traditional swimsuit by incorporating various features and technologies that target specific areas of your body. The primary aim of control swimwear is to offer extra support and control in areas where you might want a little extra help, such as the tummy, hips, or bust.
How Does Control Swimwear Work?
Control swimwear achieves its shaping and control effects through design elements and materials. Here's how it works:
Tummy Control Panels
Many control swimsuits feature built-in tummy control panels, typically made of a firm and stretchy fabric like spandex or Lycra. These panels provide compression and support to the abdominal area, helping to smooth out any bulges and create a flatter, more toned appearance.
Ruching and Gathering
Ruching, or gathered fabric, is strategically placed in control swimwear to create an illusion of curves or to camouflage areas where you might be less confident. This technique adds texture and distracts the eye, making your body look more proportionate.
Adjustable Straps
Control swimwear often comes with adjustable straps that allow you to customise the fit for your body shape. This ensures you get the support you need in all the right places.
Underwire Support
Some control swimsuits incorporate underwire bras or moulded cups to provide additional support and shaping to the bust area. This can be especially beneficial for those with larger chests.
Fabric and Colour Choices
The choice of fabric and colour can also impact the overall look of control swimwear. Darker colours and matte finishes tend to be more slimming, while strategically placed patterns or colour-blocking can create flattering visual effects.
Top Control Swimwear Styles
Whether you're looking for a one-piece suit for a sleek and sophisticated look or a two-piece ensemble for a bit more flexibility, there's a control swimwear style to suit your preferences: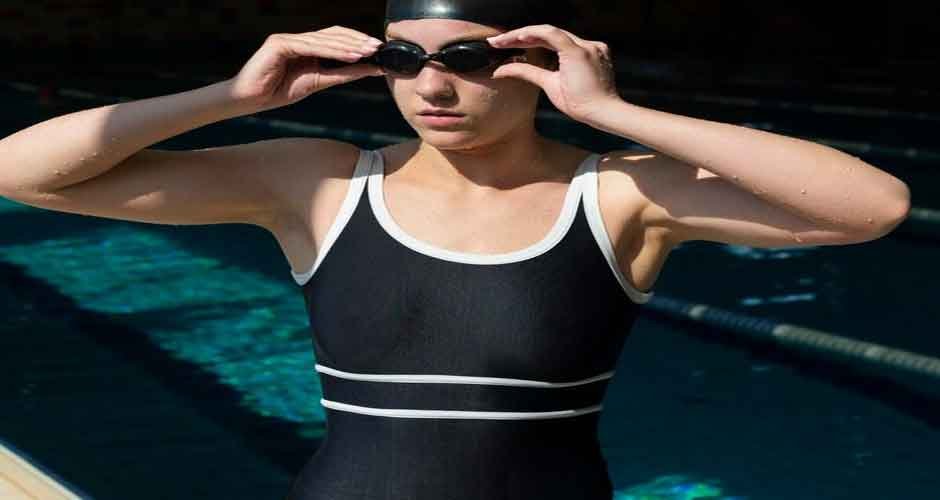 One-Piece Swimsuits
One-piece swimsuits are a classic choice for control swimwear, and they come in a wide range of styles to suit different body types. If you're looking for extra tummy control, opt for a one-piece with built-in shapewear or a tummy panel. Ruching and strategic cutouts can also help create the illusion of a slimmer waist. For those with a fuller bust, look for one-pieces with underwire or adjustable straps for added support. One-pieces are not only flattering but also versatile, as they can easily transition from the beach to a beachside restaurant.
Tankinis
Tankinis are a fantastic choice for those who want the coverage of a one-piece but the convenience of a two-piece suit. These swimsuits typically consist of a tank-style top paired with bikini bottoms. Tankinis are great for concealing tummy bulges and are available in various lengths, from short to long. Some tankinis also come with built-in bras or padding for extra bust support. Combine tankini tops with bottoms to create a unique outfit that complements your body shape and style preferences.
High-Waisted Bikinis
High-waisted bikinis have made a comeback in recent years, and they are perfect for those who want a bit of tummy control without sacrificing style. The high-rise bottoms provide coverage for the midsection while accentuating the waist. You can find high-waisted bikini bottoms in various types, from retro-inspired designs to more modern and sleek options. Pair them with a supportive bikini top to complete the look.
Swim Dresses
Swimdresses are a charming and feminine choice for control swimwear. These dresses typically feature an A-line skirt that provides ample coverage for the hips and thighs. They come in various lengths, from mid-thigh to knee-length, allowing you to choose the level of coverage that suits you best. Swimdresses often have built-in briefs or shorts for added comfort and security. The flowing skirt provides movement and a touch of elegance, making it a popular choice for women of all body types.
Bikini With Control Panels
If you love the classic bikini look but want extra support, consider a bikini with control panels. These bikinis feature strategically placed panels or seams that help smooth and shape your figure. Look for bikinis with wider sides or adjustable ties to minimise muffin tops and provide extra coverage. Bikinis with underwire or moulded cups can also provide lift and support for your bust, ensuring a comfortable fit.
Benefits Of Control Swimwear
Here are some key benefits of control swimwear:
Flattering Silhouette
Control swimwear engineers a flattering silhouette by targeting specific body areas like the tummy, waist, hips, and thighs. This slimming effect boosts individuals' confidence in their appearance.
Tummy Control
Many control swimwear options feature a tummy control panel or shapewear built into the design. It helps flatten the stomach area, making it an ideal choice for those who want a smoother and more toned look.
Comfort
Designers create control swimwear with comfort in mind. They typically use stretchy and breathable shaping materials, which allow wearers to move freely and comfortably while swimming or lounging by the water.
Support
Many control swimwear options provide enhanced bust support. It is especially beneficial for individuals with larger busts, as it helps reduce strain and discomfort while ensuring a secure fit.
Improved Posture
Some control swimwear styles incorporate built-in bras or underwires, contributing to better posture by providing additional support to the chest and back.
Wrapping Up
Control swimwear comes in various styles and designs to suit every body type and personal preference. Whether you prefer the coverage of a one-piece, the versatility of a tankini, the retro charm of high-waisted bikinis, the elegance of swim dresses, or the classic look of bikinis with control panels, there's a control swimwear option. With these options, you can confidently enjoy your time in the sun and make the most of your summer days at the beach or by the pool. Remember that the key to feeling your best in swimwear is finding a style that makes you feel comfortable and confident in your skin.