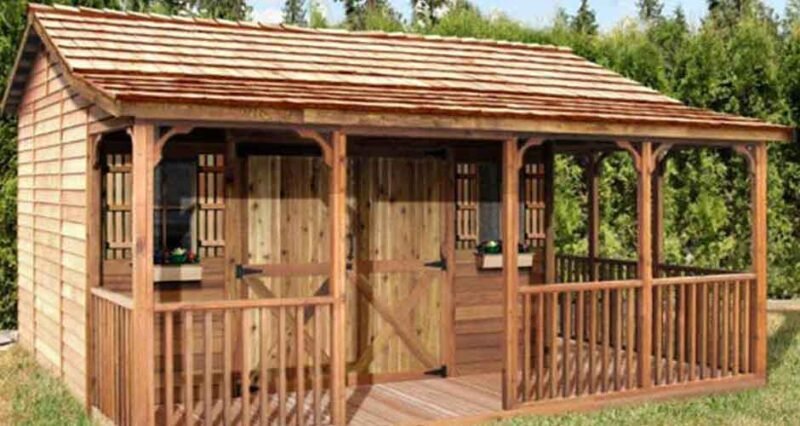 In the realm of home improvement, there is a rising trend towards sustainability and style. Homeowners are increasingly seeking ways to create functional spaces that are both aesthetically pleasing and environmentally responsible. One brand that stands out in this regard is Cedarshed.
Cedarshed Industries, a Canadian-based company, has been providing high-quality, stylish, and sustainable outdoor storage solutions since 1980. Their products are designed with Western Red Cedar, a renewable resource known for its durability and natural beauty. This unique blend of sustainability and style makes Cedarshed the preferred choice for many homeowners looking to enhance their outdoor living spaces.
Sustainable Materials
Cedarshed's main material, Western Red Cedar, is sustainably harvested from well-managed forests. This ensures that for every tree cut down, several more are planted in its place, contributing to the conservation of our environment. Unlike plastic or metal sheds, cedar is a natural, renewable resource, making Cedarshed's products an eco-friendly choice for your home improvement needs.
In addition, Western Red Cedar is naturally resistant to decay and insects, reducing the need for chemical treatments. This not only contributes to a healthier environment but also extends the lifespan of your shed, further enhancing its sustainability.
Stylish Designs
Beyond sustainability, Cedarshed offers a range of stylish designs that can complement any home aesthetic. Whether you prefer a traditional garden shed, a modern studio, or a charming gazebo, Cedarshed has a design that will suit your style.
Their products come in various sizes, from small tool sheds to large two-story structures, offering flexibility for your specific needs. The natural beauty of the cedar wood can be left to weather naturally or stained to match your home, giving you full control over the final look of your shed.
Easy Installation
Another notable aspect of Cedarshed is the ease of installation. Their products are designed with the DIY enthusiast in mind. Each shed kit comes with a comprehensive, easy-to-follow instruction manual, pre-cut and pre-drilled parts, and all the necessary hardware, making the installation process straightforward and enjoyable.
Investing in a Cedarshed
Investing in a Cedarshed not only provides you with a functional storage solution but also adds value to your property. A well-built, stylish cedar shed can enhance your home's curb appeal, potentially increasing its resale value.
Furthermore, by choosing Cedarshed, you're supporting sustainable practices and contributing to a healthier planet. This combination of sustainability, style, and functionality makes Cedarshed an excellent choice for any homeowner looking to improve their outdoor space while minimizing their environmental impact.