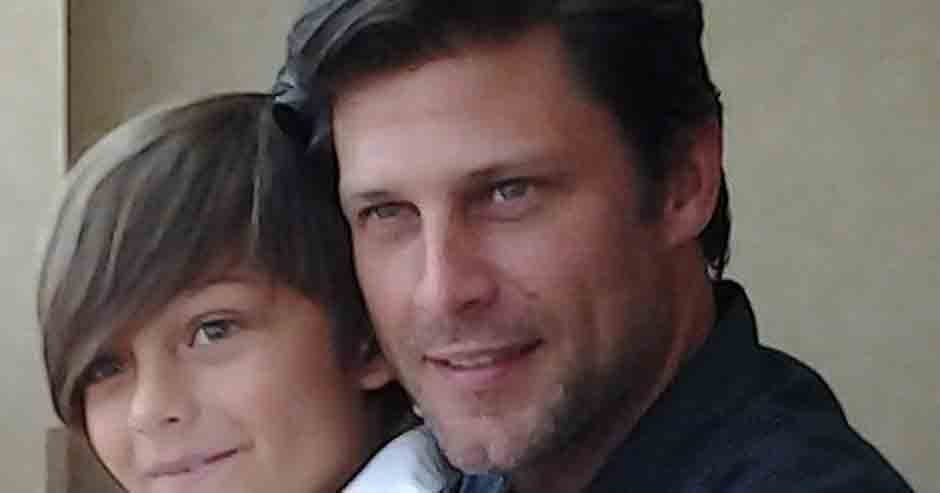 Jathan James Vaughan was born on May 4th, 2007, to American actor and model Greg Vaughan and Dutch fashion model and entrepreneur Touriya Haoud. After having their three sons; Jathan, Cavan Thomas (born January 19th, 2010), and Landan Reid (born March 5th, 2012), the couple separated in 2014 and Touriya moved back to the Netherlands in 2021 while their children continue to live with Greg in the United States. In 2018, Jathan graduated from the fifth grade at Roscomare Road Elementary School and earned himself a diploma.
His Father, Greg Vaughan
Gregory Vaugh Jr. was born on June 15, 1973, in Dallas, Texas, USA and raised there. At sixteen, he was discovered and quickly signed to a local modelling agency, and before he was twenty-one he had campaign contracts with names such as Giorgio Armani and Banana Republic. In 1996, he made his series debut on the iconic NBC series, Malibu Shores and followed that up with a role in Beverly Hills 90210. He also appeared in small independent films and a few television shows, until he was cast as a series regular in the popular supernatural show, Charmed (1999-2000).
Vaughan's acting career continued to soar with a lead role in Kevin William's Glory Days, and the coveted role of "Lucky Spencer" on the popular General Hospital (2003-2009). During this time, he also spent time guest-starring on Will & Grace and Still Standing, crossing over to film in Borderline Murder, and making appearances in the CW series 90210 and ABC's Jane by Design. In 2012, he became the beloved character Eric Brady on Days of Our Lives, a role he held until 2015 when he moved on to the famous drama series Queen Sugar (2016) as Calvin, a married police officer. Vaughan gained recognition for his role in Queen Sugar and even won an Emmy Award for Outstanding Supporting Actor in a Daytime Series in 2018 when he earned his way back onto Days of Our Lives.
His Mother, Touriya Haoud
Touriya Haoud is a fashion model and entrepreneur born on October 1, 1977, in Rhenen, Utrecht, Netherlands, to a multi-ethnic family. She was raised in the Netherlands and completed her master's degree in communications before embarking on a successful career in fashion, modeling for top designers and fashion brands throughout Europe. Transitioning to television and film, she had her American big-screen debut in the movie Five Fingers, starring Ryan Phillippe, which brought her to Los Angeles in 2005. There, she combined her love of fashion and art when she opened the gallery space The Connector LA in West Hollywood.
In 2020, Touriya was diagnosed with Stage 2 Hodgkin's Lymphoma. Instead of succumbing to fear and despair, she saw it as an opportunity to take control of her life. Remembering the limited options for fashionable hair wraps for women undergoing chemotherapy, Touriya used her Moroccan heritage and Indian styling to create her own turban and accessories line, named Touriya Haoud Designs. With the aim of making all women feel beautiful, confident, and powerful, she designed the line with her own personal style and weaved her own story of resilience safely tucked within the fabric of each bright-colored piece.