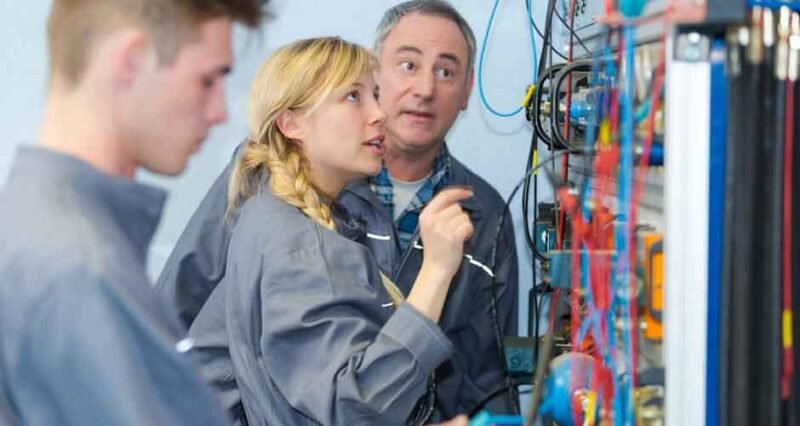 Training as an electrician can provide individuals with the knowledge to legally and safely perform electrical work. Each state may have different electrician training guidelines and rules for becoming a licensed contractor, so take the time to explore your state's requirements. Here is what you need to know about getting trained as an electrician in the state of Ohio:
How To Become a Licensed Electrician in Ohio
The Ohio Construction Industry Licensing Board regulates Ohio contractor licenses for various specialties. To get licensed as an electrical contractor in Ohio, you must be at least 18 years of age and be a United States citizen or legal alien. You must pass a background check and pass an electrical trade examination. Applicants must have five years of experience working as an electrician or three years of experience as a registered engineer. The application for the trade examination can be found on the state's website. After filling out your personal details on the application form, confirm that it's error-free. You must then have the application notarized by an authorized party. Failure to do so could lead to delays during the audit process.
If your application gets approved by the board, you must pass a federal and state background check. You can sit for the exam after full approval of the application and background checks. If you pass, you'll receive a license to work as a commercial electrician. You can renew the license online through the Ohio Department of Commerce Online Licensing website. If you don't renew the license before it expires, you must retake the exam and reapply for your license.
Electrical Licensing Requirements in Ohio
The state of Ohio provides a certifying qualification process for one to become a licensed contractor after gaining five years of experience as an electrician employee. An electrical license is required to run an electrical business in Ohio, but general electrical work can be done without licensing in Ohio. Only commercial contractors need a license to provide their services. There are two exceptions to this rule: the cities of Middletown and Hamilton require journeyman licenses to perform general electrical work.
You should have at least three years of employee experience and electrician training to apply for a journeyman license in these two Ohio cities. The rest of the municipalities in the state allow a person to work under a licensed contractor as an employee for five years before applying for an electrician contractor license. Due to the different regulations across Ohio, research your city's specific guidelines to identify the best electrician schools. Once licensed, you can repair and install all types of electrical equipment. You can also operate your own electrical business and hire employees.
How To Acquire an Electrician License in Ohio
Before applying for an electrical contractor license, you should have at least five years of experience. There are different ways for you to gain experience. You can attend a trade school and then apply for entry-level positions. You can also consider apprenticeship or work in your local area. Apprenticeships help you learn the basics of electrical theory, equipment usage, and electrical wiring. Most apprenticeships are union-affiliated. During an apprenticeship, you can complete both fieldwork and classroom training. The goal of these training programs is to produce innovative, competent electricians.
You can also join a union and choose one of the many joint apprenticeship and training committees to apply for an apprenticeship. Technical colleges and trade schools provide future electricians with cutting-edge technology and accelerated learning programs. If you attend a technical school, expect to spend time in both the shop and classroom. Many technical colleges also provide online courses. With these programs, you can complete your general education requirements quickly and start practicing your trade in the field.
Electrical License Reciprocity in Ohio
If you're licensed in a different state as an electrician, you can work in Ohio without undergoing their entire training or licensure process. Ohio maintains reciprocity agreements with other states for several other professions. If you are licensed as an electrician in Ohio, you can also work in Louisiana, North Carolina, Kentucky, Tennessee, West Virginia, and South Carolina. Ohio only allows state reciprocity for individuals who have undergone the state-recognized licensure exam. If you have not completed a state exam, you may be required to sit for the state licensure exam before working as an electrician in Ohio.
Choose the Right Electrician Training Course
A thorough and detailed electrician training course can help aspiring electricians prepare for the competitive market. A reputable national trade association can offer cost-effective, efficient employee training to promote the success of future electricians. Choose an association that offers various continuing education courses, including electrical safety training. Contact an electrician training program provider today to learn more about their state-approved coursework and hands-on training requirements.