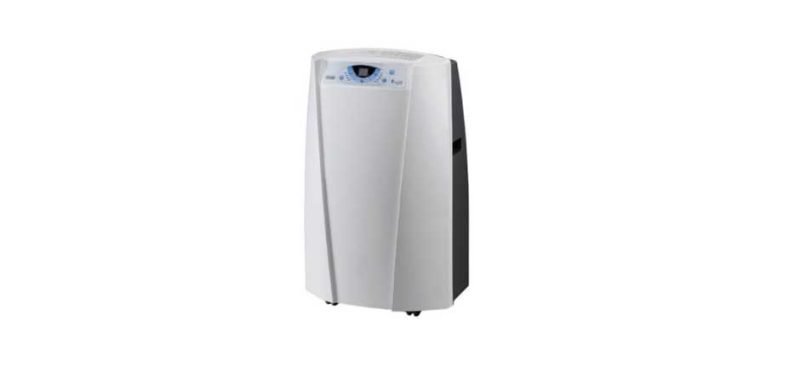 The DeLonghi PACL90 is a high-quality portable air conditioner that provides efficient cooling for your space. With a cooling capacity of 10,000 BTU, this air conditioner is designed to deliver optimal performance in cooling larger rooms and living spaces. Its portable design allows for easy movement between rooms, and it comes with durable indoor and outdoor castor wheels and side-carry handles.
Key Features
3m Filtrete air filtration: The PACL90 is equipped with a 3m Filtrete air filtration system, ensuring that the air circulating in your space is clean and free from impurities.
Double exhaust hose: The double exhaust hose design improves the efficiency of the air conditioner by providing better air circulation and ventilation.
No drip technology: This air conditioner features a no-drip technology that eliminates the need for manual draining, providing hassle-free operation.
Energy-efficient: With its energy-efficient operation, the PACL90 helps you save on energy consumption while keeping your space comfortably cool.
Adjustable thermostat: The adjustable thermostat allows you to set and maintain your desired temperature easily.
Easy-to-use control panel: The control panel is user-friendly and intuitive, making it simple to adjust settings and customize the cooling experience.
Window bracket: The included window bracket ensures a secure and stable installation in the window.
24-hour programmable timer: The built-in programmable timer allows you to schedule the operation of the air conditioner according to your preferences and daily routine.
Specifications
Brand: DeLonghi
Series: PINGUINO
Model: PACL90
Style: Portable Air Conditioner
Functions: Cooling
Cooling Capacity (BTU): 10,000
Control Type: Electronic
Includes Remote Control: Yes
Timer: 24 Hours
Unit Weight: 75 lbs.
Dimensions: 19.9″ x 17.3″ x 31.4″
Date First Available: May 06, 2008
Customer Reviews
Review 1
Pros: Well-designed, well-made, and quiet for an air conditioner. Easy to set up and use. Controls on both the unit and the remote. Easy to move between rooms. Stable and safe for households with children.
Cons: Window kit could be larger, but additional parts are available for extension. Some users find it not quiet enough for the bedroom, but noise perception varies.
Overall Review: The reviewer purchased two units and is highly satisfied with their performance. The units have met their expectations in terms of quality and functionality, providing comfort in their townhouse. They acknowledge the importance of inspecting the unit upon delivery and appreciate Newegg's excellent customer service.
Review 2
Pros: The air conditioner works amazingly well, providing cool and dehumidified air for a 1000 sq ft. living room. The machine does not leak and maintains a comfortable temperature. The reviewer is pleased with the purchase and has recommended it to others.
Cons: The unit is a bit bulky, and the box arrived damaged. The vents are not adjustable, and the exhaust tube may become loose occasionally.
Overall Review: Despite some minor drawbacks, the reviewer is happy with their purchase and has experienced satisfactory performance. They hope others will also receive a well-functioning unit.
Review 3
Pros: The PACL90 is super quiet, delivers very cold air, and comes with useful features such as a remote control, dual hose design, and programmable operation. The wheels/castors work well on carpet, and the air purifier function is a bonus. The reviewer appreciates that the unit is not visually unattractive.
Cons: The unit is heavy to carry upstairs.
Overall Review: The reviewer considers the PACL90 as the Cadillac of portable air conditioners due to its performance and features. They highlight its quiet operation, cold air output, and various user choices for operation. Despite a damaged box during shipment, the unit itself arrived undamaged. The reviewer is pleased with the purchase and considers it a good value.
Review 4
Pros: Portable air conditioners offer flexibility of use, and the PACL90 performs reasonably well in cooling rooms. The unit has a stylish design, a nice remote control, and a dual hose configuration. The programmable options and sleep mode are appreciated.
Cons: The unit is not as quiet as expected, and the reviewer encountered an issue with the unit locking up temporarily after using the boost mode. The construction feels thin, and the control panel arrived detached. The manual could provide better troubleshooting guidance.
Overall Review: The reviewer has mixed feelings about the PACL90. While it cools the room effectively, there are concerns about its functionality and longevity. The reviewer's previous experience with another Pinguino model was more positive. They emphasize the importance of receiving a fully functional unit for a satisfactory experience.
Conclusion
The DeLonghi PACL90 portable air conditioner offers a range of features and benefits to enhance your cooling experience. With a cooling capacity of 10,000 BTU, adjustable thermostat, programmable timer, and energy-efficient operation, it provides efficient and convenient cooling for larger rooms and living spaces. While there are some minor concerns raised by customers, overall, the PACL90 is regarded as a well-designed and effective cooling solution.