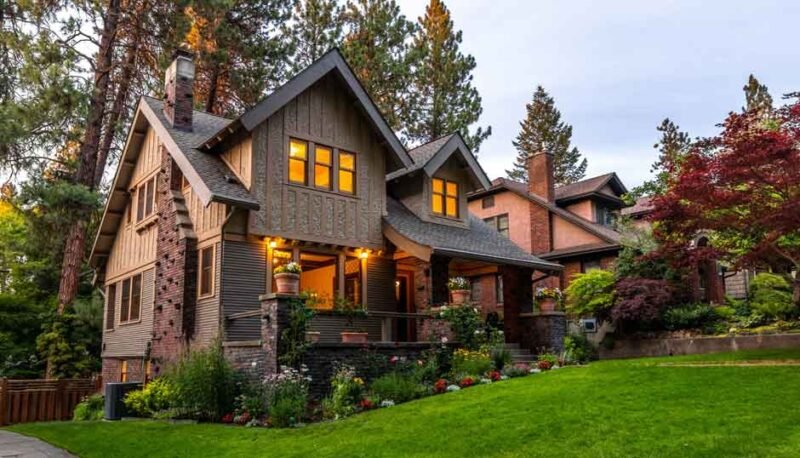 No matter how much you debate about the location or size of a home, it always leads you to the point where all you want is a house that suits your lifestyle by listening to what your heart speaks. You evaluate various house styles to find which one goes well with your preferences finally. However, not every home buyer would find this task simple. If you are in a similar situation, this article will help you by delving into the details of popular home styles and help you find yours.
Colonial Style
The first in line is the colonial-style home since it depicts a timeless representation of classic elegance. It's characterized by its symmetrical design with a rectangular shape, often adorned with brick or wood siding. You'll frequently find gabled roofs and charming chimneys gracing these homes. Step inside, and you'll encounter interior layouts that exude formality, often centered around central hallways. The Colonial style might be the perfect fit if you're drawn to traditional design with a touch of sophistication. Its balanced proportions and timeless appeal make it a choice for those who appreciate classic beauty.
Cape Cod Style
The cape cod style evokes a sense of cozy charm and simplicity. Its design is notably straightforward and symmetrical, featuring steep-pitched roofs with iconic cedar shingles. You'll often spot dormer windows adding to the quaint appeal. In the interior of these residences, a clever spatial arrangement fosters a snug and hospitable environment. The cape cod style may be your perfect match for those who yearn for a home with a charming, cottage-like ambiance and a cozy, welcoming feel.
Mediterranean Style
The Mediterranean style draws inspiration from the sun-soaked homes of countries like Spain and Italy, offering a warm and inviting architectural choice. These homes typically feature exteriors adorned with stucco finishes, red-tiled roofs, and elegant wrought-iron accents. Upon entering, one is greeted by open and airy spaces characterized by graceful arches and intricate tilework. Frequently, designers opt for Mexican tile to enhance both the interior design and architectural elements of these homes. If you yearn for a home exuding rustic charm, inviting warmth, and a hint of Mediterranean allure, the Mediterranean style may be your ideal oasis of beauty and comfort.
Craftsman Style
Craftsman-style homes are a celebration of artisanal charm and meticulous workmanship, evident in their distinctive features such as detailed woodwork, overhanging eaves, and exposed rafters. Upon entering a Craftsman home, one is greeted by pillars that line the entranceway. These homes boast artisan-crafted windows and inviting interior spaces that evoke feelings of nostalgia and warmth. For those who value the artistry of handcrafted details and seek comfort in their homes, Craftsman-style homes offer a unique fusion of coziness and artistry.
Contemporary Style
The contemporary style home is a dynamic canvas for architectural innovation and adaptability that creates its signature look with its unique geometry and open floor layout. It continually evolves to embrace the latest design trends and innovations, emphasizing clean lines, expansive windows, and a harmonious fusion of materials that blur the boundaries between indoors and outdoors. Inside, the space is not just flexible but practically invites your creativity, allowing you to customize it to suit your unique vision. Whether you're seeking a home that reflects the current design zeitgeist or yearning for a space that provides the freedom to adapt and innovate, the Contemporary style is your blank canvas of possibilities, limited only by your imagination.
Victorian Style
For those who long for a sense of history and opulence, the Victorian style is a grand choice that transports you to a bygone era of architectural magnificence. Recognizable by its ornate detailing, steep-pitched roofs, and meticulously crafted trim, Victorian homes are often adorned with turrets, bay windows, and decorative shingles that exude a captivating charm. Stepping inside a Victorian-style home is like entering a world of enchantment, where high ceilings and ornamental interior elements create an atmosphere of grandeur and sophistication. If you find yourself enchanted by the architectural character of a bygone era, the Victorian style offers not just a home but a piece of history and timeless beauty, inviting you to live amid the grandeur of yesteryears.
Conclusion
In pursuing the perfect home, location, and size are important, but finding a style that truly suits your lifestyle and preferences is paramount. This article has explored various popular styles, from Colonial's timeless elegance to Cape Cod's cozy charm, Mediterranean's warmth, Craftsman's artisanal appeal, Contemporary's adaptability, and Victorian's opulence. Your ideal style reflects your heart's desires, helping you find a sanctuary that aligns with your lifestyle.